By Andrew Carter, Mary Elizabeth Beetham, Defenders of Wildlife
The U.S. Endangered Species Act (ESA) was passed with broad bipartisan support and signed into law by Republican President Richard Nixon on December 28, 1973. Nixon realized that saving endangered species was something strongly supported by the public, and since its passing the ESA has been credited with saving the bald eagle, brown pelican, peregrine falcon and numerous other species from extinction. The ESA continues to be popular with the public. Decades of polling consistently show that a significant majority of Americans, across ideological and geographical lines, support it. This year marks the 50th anniversary of the ESA, an opportunity to celebrate the success of this law rather than weaken it.
Despite its success and popularity, the ESA has been under attack for decades by politicians trying to weaken or even repeal it altogether. They have tried to cut funding, weaken protections for species, and single out species to ensure they are excluded from ESA protection. Some of these battles have gone on for decades. Most of the reasons for the attacks are unfounded. But separating myth and reality is essential for understanding the effectiveness of ESA.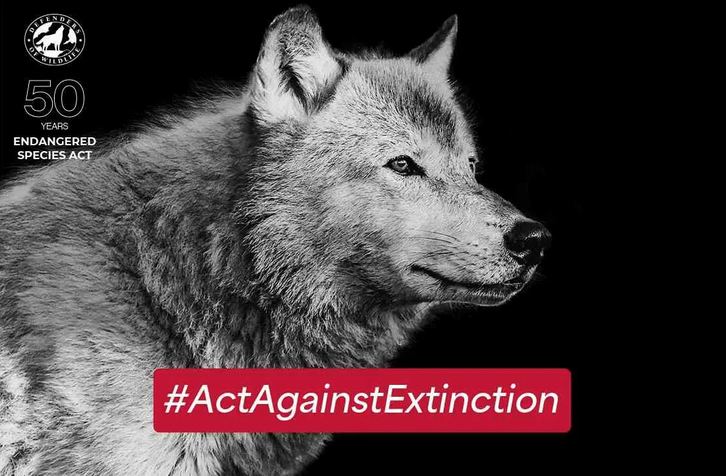 One of the primary reasons that Congress has targeted the ESA is due to economic interests. The ESA has been criticized for placing restrictions on industries such as logging, mining and oil and gas development. Each industry argues that the ESA places an undue burden on their operations. As a result, members of Congress have been vocal in their opposition of ESA. However, research conducted by Defenders found, for example, that in over more than 88,000 consultations on federal actions, "no project was stopped or extensively altered." Furthermore, the ESA has detailed permitting provisions that can allow a wide variety of economic activity to go forward, as long as industries take care to minimize and mitigate their impact on imperiled species. Regardless, our economy is dependent on biodiversity, which provides hundreds of billions of dollars in ecosystem services.
Some members of Congress have argued that the ESA is an overreach of federal power and infringes on states' rights. They argue that states should have more control over the management of endangered species within their borders. The Endangered Species Act is a law of last resort, however, it protects species when state-level management has proven insufficient to keep them from the brink of extinction. But, states and tribal governments still have powerful and important roles in determining the fate of species—both before and after species are federally listed.
Political ideology also accounts for the opposition to the ESA. Some members of Congress argue that the ESA represents an excessive intervention by the federal government in private property rights or that it reflects a broader agenda of environmental extremism. This is often driven by a desire to appeal to certain small constituencies. However, polls over the past few decades consistently have shown the vast majority of Americans support the ESA and its important mission.
Finally, some members of Congress may simply lack an understanding of the importance of the ESA and the role it plays in protecting endangered species. They may not be familiar with the scientific and ecological reasons behind the ESA or the potential consequences of weakening or repealing it. In such cases, education and outreach efforts are key.
Recent legislative attempts to weaken the ESA include 52 bills in 2018 and 15 bills in 2022.
Today, the ESA is under massive assault, yet again. A total of 13 anti-ESA bills have already been introduced in the House to weaken, or even cripple, the ESA. This is a stunning rate of over one new bill per week. Yet, despite some politicians' efforts to undermine the ESA over the years, it remains an essential tool for protecting imperiled species and their habitats. One of Defenders' main goals is to defend the ESA against such attacks and to protect this important weapon against extinction. Scientists have warned that we are in the midst of an epic biodiversity crisis with one million species facing extinction in the coming decades. We have a moral imperative to protect threatened and endangered species and their habitats and to prevent extinction. Extinction is irrevocable.
Actions You Can Take
1. Take it to Social Media
The fight to save endangered species is here! The ESA is under unprecedented attack by Congress. At a time of widespread wildlife extinction and habitat destruction, we should be working to strengthen, not weaken, ESA. It's our nation's best tool for helping to stave off the tragedy of biodiversity loss.
2. Support Our Efforts
Your donation will help Defenders fight to keep the ESA intact and protect the wildlife we cherish.
3. Send a letter
Write a letter of support for the ESA to your representatives. See our action alert.
4. Sign Up for More Information
Don't miss your chance to defend wildlife from extinction. Sign up for our emails to get the latest news about imperiled animals and what you can do to help them.